---
Personal presentation coaching is the safest and most effective way of learning to present in a relaxed, interesting and professional way.
---
Individual
Presentation coaching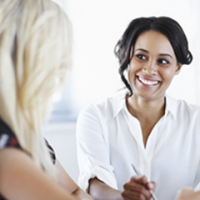 One-on-one coaching in presentation skills… WORKS!
We take your natural, relaxed style of speaking as the starting point. To find that, we look at what it is that prevents you from being your true self in front of a group. Once you've felt how easy it actually is to communicate naturally, without overthinking things, you're almost there already. We then look at how we can improve your presenting even more, by teaching you tips and tricks and techniques tailored to your needs. You too can relax and be yourself while presenting.
Like to know how that feels?
Individual Presentation Coaching
Speaking Happens offers one-on-one coaching sessions of 2½ or 4 hours. You can also have a presentation coach work for a whole day with you and your colleagues, on improving all aspects of the presentation. You can choose to take a single session or go for a series of sessions.
Following your online application, we'll suggest to you a number of sessions, based on the themes you indicated. If you decide to start, you can use the online form to give your preferred dates and locations. We'll confirm everything with you as soon as possible.
The presentation coach whose expertise best suits your coaching question, will get in touch with you beforehand.
The coaching can cover everything that has to do with presentation. Our unique QandA® method of brief and stress-free preparation 'speaks for itself', and leads to a natural presentation style. We film sessions so you can see your progress for yourself, and we can highlight everything that's holding you back. 'Dealing with critical questions' for example, is something you can practise, so you can learn to cope with it effectively.
Speaking Happens also has unique expertise and experience in the field of severe public speaking fear, a crippling fear of speaking in public caused by a painful experience during a presentation. Caring guidance will replace that fear with a new-found self-confidence and a pleasure in public speaking, so you'll no longer feel the need to avoid situations in which you 'have to' speak in public.
Coaching sessions take place in The Hague, Amsterdam, Utrecht, Rotterdam, Leiden and Breda. In Belgium, the locations are in Brussels, Antwerp and Ghent. Presentation coaching can also be given at a location of your choice.
Get in touch with us for more information about options, rates, etc.
Executive
Presentation coaching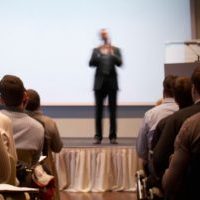 As a CEO, director or manager, you want assistance with preparing for an important presentation to be on an individual basis. Arold Langeveld, Roeland Kooijmans and Sylvie Verleye have all had years of experience helping speakers who present themselves at the highest level. Management speakers need effective communication skills to engage all audience sizes, with or without cameras present, at a highly professional level.
Executive Presentation coaching is for CEOs, board members and members of management teams, professionals such as celebrities, top athletes, TEDx speakers, university lecturers, barristers and for anyone presenting for television, the Internet and/or other media purposes.
Coaching sessions are in The Hague, Amsterdam and Utrecht. In Belgium, in Brussels, Antwerp and Ghent. Presentation coaching can also be given at a location of your choice.
Get in touch with us for more information about options, rates, etc.
You don't have to search for the words. They'll find you.